Sign-Up for the Precision Growth Newsletter
Do you remember the reasons you had for joining this industry?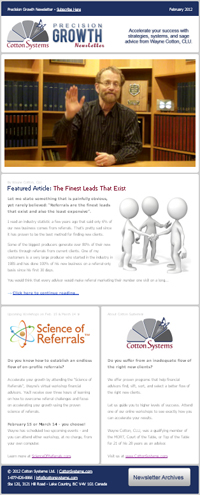 Did you want a career that would let you enjoy more time freedom and money freedom? Did you want to help others in a meaningful way? Did you want to build a profitable business while doing something you loved each day?
If you said yes, you're among the majority of financial advisors who started out with big dreams and high expectations. Sadly, most advisors - whether it's five, ten, fifteen, or twenty years into their career - have never fulfilled their projected goals. They've never accomplished the professional success they imagined possible. And they've never experienced the time and money freedoms they deserve.
But, believe me, you can achieve amazing results in this industry!
I've developed the Precision Growth newsletter to help financial professionals achieve better results. Within this newsletter, I provide time-tested insight on topics such as:
Prospecting
Marketing
Client Acquisition
Planning for Success
The Principles of Growth
Developing a Business Process
Referrals
And more...
By filling out the form below, you will gain access to my newsletter as well as invitations to my exclusive events and special announcements. You will then receive a follow-up series of emails where I will share my time-tested principles, philosophies and concepts with you. You can unsubscribe at any time. So go ahead, fill out the form below to subscribe to the newsletter today!
Your email address will NEVER be rented, traded or sold - and you can unsubscribe
from these emails at any time. I hate spam as much as you do and I will protect your information.