Discover the marketing myths that can and will
prevent you from achieving your true potential!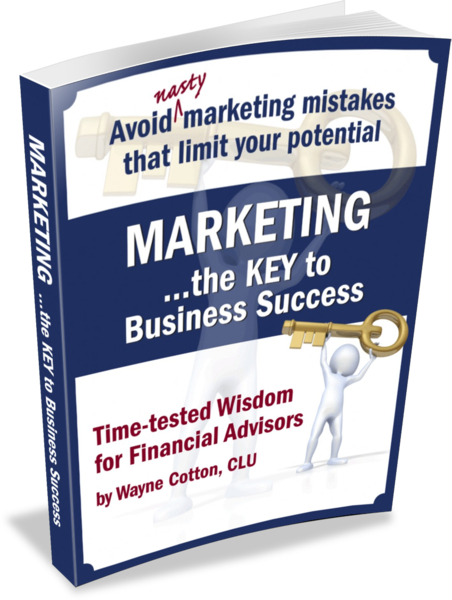 I just put the finishing touches on my new e-book called "Marketing…The Key to Business Success".  I would like to offer you the opportunity to download a copy today. There is no catch. Just solid information drawn from my 28 year career as a financial advisor and the thousands of advisors who have learned from my experiences in building a highly successful practice.
"Marketing... the Key to Business Success" contains 68 pages of core content from my marketing articles. In them, I expose the insane thinking and ineffective marketing methods that can stunt your ability to grow. Of course, I'll also share some powerful theories and next steps that can impact your growth now and in the future.
You'll learn about:
Your Number One Constraint that Prevents Success
Living in the "House of Pain" and How to Escape
The Myth of Multiple Methods of Marketing
The Hidden Costs of Attraction Marketing
The Challenge of Referral Marketing
The Science of New Client Selection
The Power of Precision Marketing
Plus much, much more…
Complete the short form below and we will email you the link to your copy of "Marketing... the Key to Business Success". You will then receive a follow-up series of emails where I will share my time-tested principles, philosophies and concepts with you. You will also receive occasional invitations to my exclusive events and special announcements.  You can unsubscribe at any time. Privacy Policy



Wayne Cotton CLU

Note Gmail users - look for our confirmation email under the promotion tab. You can drag this
email to your Primary inbox so going forward Cotton content will land in your main inbox.
Your email address will NOT be rented, traded or sold - and you can unsubscribe from
these emails at any time. I hate spam as much as you do and I will protect your information.